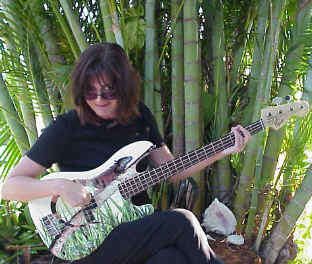 This Bass Guitar Is Cool! This Is a Fender® Squier® Bass Guitar (4 strings) with a Poly Vinyl Graphic of Buddy (the same Iguana on the six string), Technology has caught up to our Vision! This is the 2nd Generation, with High Quality Graphics wrapped all around the front of the Guitar Body!! Also available as a Regular six-string Strat® Guitar!!
See the Pictures! Buy the Guitar!
This is a Full Size Fender® Bass Guitar Approx. 45" x 13" Weighs approx. 9 lbs.
Part Number: CIS BGII Your Price: $369.00 each (+$39.95 S & H) FL Residents add Sales Tax
Toll Free 1-866-783-9382
Click on the Pictures Below for Close-ups, Hit your Browsers Back Button to Return to this page!


These products are proudly brought to you by Warehouse Plan, Inc.
e-mail inquiries to: info@cooliguanastuff.com
© 2001- 2014 cooliguanastuff.com