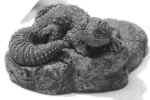 OK, OK, This isn't an Iguana either, But Three of these guys from United Design® will keep your Pots up off the floor allowing air to circulate under you potted plants! An Award Winning Idea! 3.9" x 2", 8.3 oz.
(Now out of production! Limited number available!)
Set of Three Gecko Pot Feet!
Part Number CIS SG-3096 Your Price: $22.50 (+$4.95 S+H)
Toll Free 1-866-783-9382.


These products are proudly brought to you by Warehouse Plan, Inc.
e-mail inquiries to: info@cooliguanastuff.com
© 2001- 2014 cooliguanastuff.com